We are delighted to annouce that we have reached our fundraising target for our Hope for Growth campaign! Our heartfelt thanks to all those who fundraised and donated to this fantastic cause.  
Potter's Village - Child Crisis Centre
We are inviting you to join with us in any way you can to raise money to support the Crisis Centre at Potter's Village as they continue to give Hope for Growth to many children in the years to come. As we celebrate the return to a more normal life free from restrictions, this is great opportunity to get together with our church, family and friends and find creative ways to raise money and have fun at the same time!
Fifteen years ago, in 2006, the first bricks were placed to build the foundations of the iconic Potter's Village buildings. Those distinctive, green roofed buildings have, over the years, been a haven for so many vulnerable children, frightened and grieving family members, and a trusted place for the staff who work there.
Jenny Green's vision, based on the scripture in Jeremiah 18 - The Potter and the clay - was rooted in the idea that Potter's Village was there to help re-shape the lives of these tiny babies who might otherwise have very little hope. From the first seeds of the Child Crisis centre, Potter's Village has gone on to develop an excellent Children's Medical Centre (with Outpatient and Inpatient facilities), a Special Care Nursery, a Nutritional Rehabilitation Centre, an Antenatal Unit and a Rehab Centre for Children with Disabilities.
This project has been truly blessed and we are grateful to God for providing all that this project has needed over the years, so that it can serve the community. We are also thankful to the Ugandan staff, many of whom have committed many years to working at Potter's Village. The project has also been fortunate to have some fantastic overseas volunteers, amazing Donors, Supporters and Child Sponsors who have all helped make Potter's Village shine like a light in and for the community.
We want to highlight the work of the Crisis Centre in this appeal. The Crisis Centre is the reason Potter's Village was established and which fully supports vulnerable children for the long term. Potter's Village currently supports 19 resident children and 63 in the community.
Without your support we would have to turn babies and families away when they needed our help the most. There are many stories we can tell, to read some of them please see below. Thank you.
Stories from Children & Staff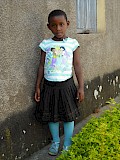 Blessed was one of the first babies at Potter's Village and today she has grown into a lovely big girl. She was born in Kampala, where her fam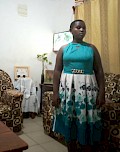 ily were then living, on 3rd Sep 2009, and her mother died shortly afterwards. Blessed's father then took her down to her grandmother in Kisoro, who fed her with raw egg and milk. Someone told them about Potter's Village and Blessed was admitted there when she was three weeks old. Sadly, her father also died, so when she left Potter's Village at 16 months, Blessed went to live with a foster family.
Having saved sufficient to start their income generation scheme, the family bought a goat, sold the kids and with the proceeds were able to buy seed irish potatoes. Within a couple years they had sufficient income from the potatoes so that Blessed was able to come off community support. She is doing well at school where she is in Primary four, and has bonded so well with the foster family.
Blessed's foster father is a head teacher, and her foster mother is also a teacher. They have five of their own children who all accepted Blessed as their sister. Blessed is the youngest and much loved. She often visits her grandmother and the two families have developed a strong relationship. Both families greatly appreciate the work of Potter's Village in saving the life of Blessed.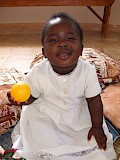 Sarah is one of the first babies who Potter's Village cared for when she was in a very vulnerable state and was given a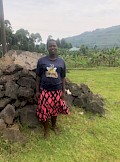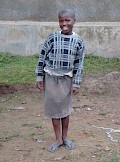 n opportunity so that she can survive. She was abandoned by her mother and brought to Potter's Village through the probation office in April 2007, aged about 2 weeks. She left Potter's Village when she was three years old and has had several foster homes. She has been with her current foster parents, who took her in as a member of their family, for over five years. Sarah is now 14 years old, doing well and happy in the family. She goes to school and has completed Primary Seven.
Sarah says she is so appreciative for the support that Potter's Village gave her and for providing her with a home to live in those early days of her life. She also appreciates that she was placed in a caring and loving family that treats her like their own child.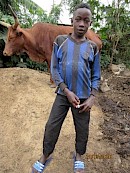 Michael was one of the first children to be admitted to Potter's Village. He was born in 2007, in the UN transit camp on the edge of Kisoro, after his family had fled their home in the Congo due to the conflict there. Sadly, his mother died soon after delivery and the UNHCR brought Michael to Potter's Village when he was four days old.
The family were subsequently moved to other refugee camps, contact with them was lost and they never came back for him. Michael has said he wants to look for his biological family and Potter's Village have sought help from the local community officers in the hope that his family can be traced.
When he was two, Michael left Potter's Village and went to live with the family of one of the baby carers. Michael's foster mother subsequently married but all her family are involved in caring for Michael, for as the grandfather says, 'the whole family welcomed him'.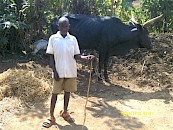 Like all children who are supported in the community by Potter's Village, Michael received a cash sum each month, they are all encouraged to use some of this to set up an income generating scheme.
In Michael's case, his foster family decided to buy goats. Through selling the young goats, then buying a cow and selling calves and milk they have now been able to buy a piece of land. Currently, the land is being used to cultivate food for home consumption, but Michael will eventually build a house on the land.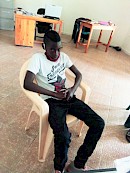 Michael helps at home by fetching water, grazing his goats and cows. When he was younger he would help with washing the dishes and peeling matoke (green bananas).
Michael has been able to attend school, where he was doing well, and his family say they 'are expecting something good to come out of him'.  He did have some difficulties attending school, then Covid arrived, and he has not been able to attend school for many months. He is hoping to complete primary school so he can go on to a vocational school to learn a skill to support himself in the future.
Michael is fortunate to be with a good family who are very caring and supportive. He is very grateful for the support he has received from Potter's Village and says that though he has never seen his sponsors, he is so thankful to them and prays for God's blessing in their lives.
Potter's Village was established for children, but it's not just the children who benefit. Here we include the stories of some of the staff, as told by themselves.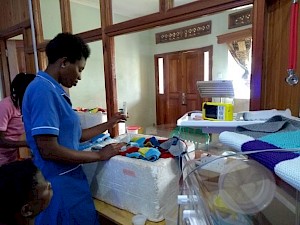 ''My name is Barbra, a nursing assistant in the Medical Centre. I started work at Potter's Village in December 2014, as a baby carer. I thank God for allowing me to be among the workers at Potter's Village and I am also grateful to the management for trusting me and keeping me on the job.
My being employed at Potter's Village has helped in so many ways. Through the monthly wage I have been able to support my sister to go to school. She would not have managed because she had failed to get school fees. She has now completed senior four and she is still continuing with her studies, and when the school opens again after lockdown, she will go back to school and I will still be the one paying her fees. From my monthly payment I have also managed to always buy diabetes and hypertension drugs for my grandfather.
I have gained skills from Potter's Village, first in child care which I learnt when I was a baby carer.  I am also happy that I got a training in general nursing care and then I was given the opportunity to work as a nursing assistant. I have acquired many skills as a nursing assistant [especially in the Special Care Nursery – Ed] that will help me and my family in future and also the community.
From my savings, I have also started a small business of selling second-hand clothes which I normally do on my days off and this is now supplementing my monthly salary. I am so happy to be part of Potter's Village Ministry staff.''
"Mugisha Festo is my name, and I thank God that I am part of Potter's Village. I started working with Potter's Village in 2007, as a carpenter to help in constructi
on and repairs of any broken furniture etc. After 6 years with Potters Village, I was appointed as the Senior Worker's Supervisor in the Crisis Center. I served for 4 years and was sent for further studies at Metropolitan International University where I acquired a certificate in (PAM) Public Administration Management in 2013. On 17th Aug 2017, I was appointed to be the Social Worker Caretaker as I continued my studies to attain a diploma in PAM, from which I graduated in 2019. Immediately after this I started a degree course in Social Work, Social Administration (BSWASA) which I hope to complete soon.
I am married and have 4 children, 3 are in school and sponsored by our good friends from UK. Leonard Zac Iradukunda is our 1st born child and is currently in S1 at Kisoro Vision Secondary, Irumva Lilian our 2nd born child has completed Primary Seven, and Irahari Timothy our 3rd born child is in P.2 at St Allen's Primary School. We have Ruth who would have joined school but is still at home because of COVID 19.
Appreciation: I deeply and sincerely thank everyone that has contributed towards our well-being and confess that we have seen the mighty hand of God work in our lives. We thank you for your prayers and encouragements and the financial support for both my education and health treatment. I thank the current administration for the support and guidance always given to me.
May the good Lord bless everyone that has contributed towards saving the innocent lives of the vulnerable children at Potter's Village.
God bless you all. Thank you."
Copyright © 2022 The Potter's Village
Website: Rochdale Online Web Solutions