Child Sponsor Appeal - We need 23 NEW donors in 2023!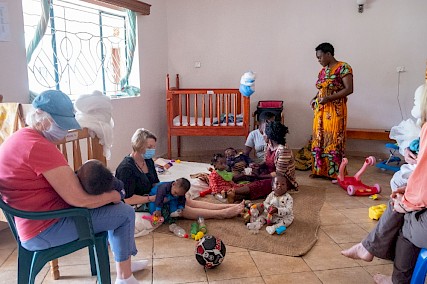 *Update Nov. 23' - we are so grateful to those people who have already decided to join the team and support Potter's Village through regular giving.  We are still looking for another 13 sponsors to reach our target for the end of 2023 - can you help us reach our goal?*
We are appealing for 23 NEW Child Sponsors in 2023!  Become part of the team supporting vulnerable babies in Uganda who need Potter's Village to help reshape their lives. During the last year Potter's Village has seen a influx in babies who have been abandoned or who have lost their mothers soon after birth.  This increase has been due partly to the rise in the number of refugees fleeing the Democratic Republic of Congo into the UNHCR camps near Kisoro. 
With so many babies' in need, Potter's Village opened a third baby's room to accommodate these vulnerable infants, which alongside the cost of living crisis in Uganda, has led to significant increases in costs.
We are incredibly grateful for all those who already give in any way they can, but in order for the project to keep helping the most vulnerable babies and be a shining light in the community in Kisoro, we are appealing for more Child Sponsors.
Potter's Village Child Sponsors are allocated a specific child however their donations go towards support all those cared for by Potter's Village.  You will receive an annual update, but can request an update or photo at anytime. 
Sponsorship provides for individual needs by contributing to the running costs, for example;
Monthly: 
£90 pays for the baby's one-to-one carer 
£36 will help pay for formula milk for one baby
£27 for nappies
If you or someone you know would be interested in giving regularly to help our babies have a better chance of life, then please use the Charities Aid Foundation (CAF) form below to set up a donation, or click on this link to contact us for a form. 
Copyright © 2023 The Potter's Village
Website: Rochdale Online Web Solutions