31 May 2017
Celebration Day 2017 Report
Over 80 supporters gathered at Didsbury in May to celebrate to work of Potter's Village. A craft stall and "Guess the Weight of the Cake" competition helped to raise £400. Speakers included Debbie Drew, who showed how to make lovely, but inexpensive clothing and other items for the Potter's Village children. Bill Reynolds described his recent visit with a group from Guisborough and Brenda Beardwood, one of the trustees, spoke about the importance of child sponsorship. The main focus of the afternoon was, as always, Sue and Mike Hughes' presentation on the ups and downs of life at Potter's village during the past year and looking forward to the future.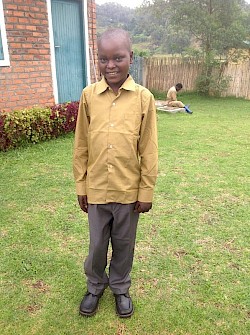 They started with the story of a miracle. Moses was a seriously ill 15 year old boy who had been admitted to the Medical Centre with TB. In Sue's, "At 7 a.m. on Christmas morning, Mike received a phone call from Jovia to say that Moses was dying.  If Jovia says someone is dying, then you know it is true.  Mike went to see him and I was left feeling profoundly sad.  How could we celebrate Christmas Day with the death of Moses?  I texted around, "Please pray for a miracle."  I and others begged God for a miracle and we got one.  Not only did Moses survive Christmas Day but this is him only 6 weeks later, leaving us to start the school term in 2 days.  Now, that is definitely a miracle"
They thanked the many volunteers who had helped in practical ways – particularly Alan Cook who, with his family, spent a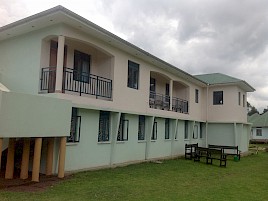 year in Kisoro to oversee the completion of the Hostel building and, while he was there, did so much more.  He dug up and relaid water pipes, he dug out and filled soak pits for flooding areas, he mended every tap, sink and toilet at least once, he tweaked electrics to make light bulbs work … and he did the building. He also worked on the Education Centre and the new Maternity unit. Other volunteers from Guisborough installed emergency lighting in the medical centre.
We heard the stories of some of the many children who have been helped at Potter's Village. Unfortunately, despite the best efforts of the medical staff, not all have happy outcomes, but there were many success stories. In the period, March 2016 – March 2017, 164 babies were admitted to the Special Care Nursery.  73 were premature and 41 were suffering from lack of oxygen at b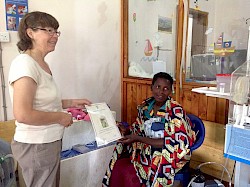 irth. Joseph was a twin and only 720g whereas his sister was a healthier 1.8Kg.  He was tiny and wizened and not expected to survive but he hung in there.  His blood sugar levels were often unrecordable and he wasn't absorbing milk.  A line was put in his artery as his veins were so small.  Putting a line into an artery is not recommended but if it's trying that or death, then it's worth the risk.  48 hours later, he began absorbing milk and has been slowly gaining weight.  This is Rosie giving the mum a certificate to mark his first 100 days.
The prospect of Sue and Mike leaving in 2018 has been unsettling for the staff, who were worried about the future of the Potter's Village. However, God has brought two Ugandan leaders to take over their roles. Emmanuel was appointed as administrator in February and is gradually taking over from Sue. He is skilled in communication and relates well with the Ugandan Staff.
Edward is a doctor who has been working in Kampala since he qualified and he is happy to come and work at Potter's Village, despite a drop in salary. He is looking to be more challenged medically – and the patients Potter's Village attracts would certainly provide this. He is very experienced in antenatal care and performing Caesarians and would enjoy developing the maternity unit.
The Hughes finished their talk with a plea:              
"Please help us find the money for wages for Emmanuel and Edward.  We need these people.  God has sent them to us.  Help us to keep them.  We know we are really underpaying the doctor.  If he were to commit himself longer term, then his pay would need to be raised.  Any of the visiting doctors will tell you that working alone as he will be at times, is tiring and stressful.  He will more than earn his wage."