14 September 2015
Fundraising bike ride success
A group of friends rode 125 miles in two days along the river Wye from Aberystwyth to Chepstow to raise money for Potter's Village.  They rode 60+ miles each day stopping overnight near Hay on Wye. There are 15 people, plus 4 support crew and used roads and some national cycle routes.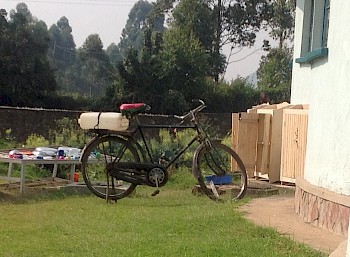 We are raising money to support Potter's Village and to help buy them a new bicycle. The projects old bike (pictured) is falling apart, but is used every day to collect milk and run errands. Also needed is a new bike shelter for both cycles and motorbikes. The Potter's Village Social Workers use the motorbikes to go out into the community and do visits to villages and families, they need somewhere dry and safe to leave their bikes onsite.
This transport is so important to the work of the project and the work that the staff are doing is lifesaving. It may seem a simple request but you can help and do your bit to save the lives of vulnerable children within this community by supporting us in this bike ride. Thank you.
Please donation by visiting www.justgiving.com/RiverWyeRide