4 February 2013
Jackson's new wheelchair
 JACKSON
For those of you who have not met Jackson before on our newsletters or website, Jackson is the oldest child at Potter's Village (he is 5 ½) and has been there since birth. His mother had travelled for several hours in the second stage of labour and was given a caesarean section. Unfortunately his mum died and Jackson who had been deprived of oxygen was left with cerebral palsy. Jackson also has epilepsy.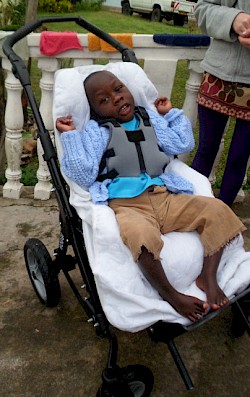 Jackson is a delightful child who is very responsive to company. He is not mobile as yet but can roll. He gives a high five if asked and giggles infectiously. As Jackson has grown the traditional way of carrying a child on your back has become impossible for the staff, due to his weight, size and stiffness. After our last visit to Potter's we felt that Jackson needed a more substantial way of being transported as he had used a regular pushchair which he had outgrown.
Knowing that we would be returning in Dec 2012 we raised monies to purchase Jackson a special wheelchair/ pushchair (see picture). We were determined to take it as part of our baggage allowance so once we had Jackson's measurements we set about finding an appropriate chair. We found one that weighed less than 23kg but hadn't banked on it not being within the baggage measurements. Luckily the chair comes apart so we took it down to its frame putting the seat and wheels into a suitcase. The frame was then wrapped and taken as luggage!
Jackson was visibly delighted with his chair and the staff and children are fascinated with it. With this new method of carrying him we took Jackson with Nurse Emily into Kisoro town to the coffee shop (see picture). This is the first time he had really been out of Potters (he had been to the Cathedral before).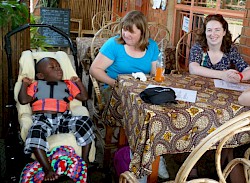 We as a group became a tourist attraction. Kisoro never sees a pushchair let alone a wheelchair, and disabled children are not seen often especially accompanied by four white people. However Jackson enjoyed his excursion, his bit of cake and Fanta.
Jackson is also going to start school very soon and this wheelchair will enable him to be easily transported and sit comfortably whilst he is learning.
Debbie Drew – Potters Village Supporter & Fundraiser